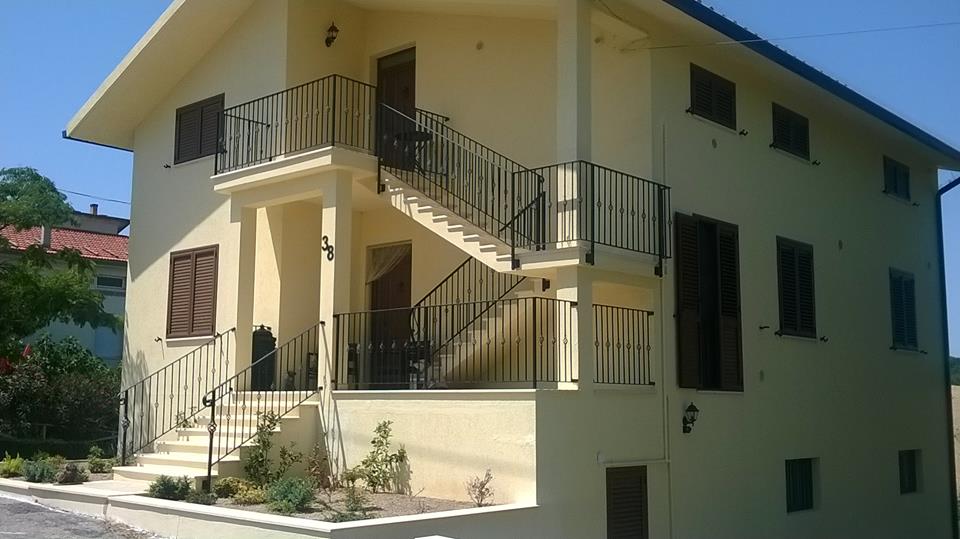 The house is on 2 floors, separated by an external staircase. We have our home, and you have privacy on the 2nd floor. On this 2nd floor balcony you can sit and enjoy the views over the surrounding countryside and mountains with a nice glass of local vino, or read a book from the selection of book provided. There is Wi-Fi on site.
The B&B has 3 bedrooms all en-suite and air conditioning (1 Double; 1 King & 1 Twin), a fully equipped kitchen with dining area. All rooms have been fitted out with new and modern furniture; the large king bedded rear has fantastic views over to the sea, with the double front looking out to the mountains.
The whole of the accommodation (2nd floor) can be booked ** as a self-catering apartment for you and your family and/or friends, sleeping up to 6 adults. – Fridge; Freezer; Hob; Oven; Microwave; Kettle; Crockery; Pans.
Our small village (Fontegrugnale, Pili), which is actually one single road, leading to a field. Is 260 Mt above sea level, with a population of (at most) 55, with >20 houses in total. The village is between the main town of Atessa (8km), and Casalbordino (9km) leading onto Casalbordino Lido (10km) and the beach and sea coastline, all in the Sangro Valley (Val di Sangro).
The peaceful Abruzzo countryside, known as 'the green lungs of Europe' and land of 1000 castles. With its choice of 12 blue flag, sand or pebble beaches, at Casalbordino; Vasto and Fossacesia Marina are in easy reach. There are 18 ski resorts in the Abruzzo Region, with Passo Lanciano found in the beautiful Majella Mountains in the National Park (60km – 11km of slopes; 3 lifts; elevation >1650 Mt).
The National Park is the largest in Europe taking up 1/3 of the Abruzzo Region. Covering many historical and interesting villages. With the central Apennine Mountain range visible in the distance. Abruzzo is a favourite holiday location for Italians, they call it the 'Real Italy' due to its unspoilt and unpretentious towns and beaches, for the array of dramatic scenery; mountains; beaches; history and culture, but not forgetting all the local fresh food and wine, something for all to enjoy.